At the last count, Microsoft had over 16 million paid subscriptions making Microsoft Office 365 the most popular range of business productivity services in the world! Partly because the applications and services just keep getting better.
At the time of publishing this blog, the 3 main Office 365 subscriptions tailored for small business are:
The most common misconception regarding Office 365 is that it's the same as Office 2013 desktop software. It isn't, Office 365 is a range of subscription plans that include Office desktop software applications and other productivity services that have been enabled over the internet (cloud services) such as Exchange Online email, SharePoint Online collaboration tool, Skype for Businesses web conferencing and on-line storage via OneDrive for Business.
All Office 365 subscription plans can be paid for monthly or annually. Purchases can be made via the Microsoft website or at discounted volume pricing through a Microsoft Partner such as Fentons Business IT Solutions.
Office 365 is constantly evolving with new business productivity applications regularly being added to its subscriptions. Office 365 currently has the following Apps in its portal:
Office 365 Apps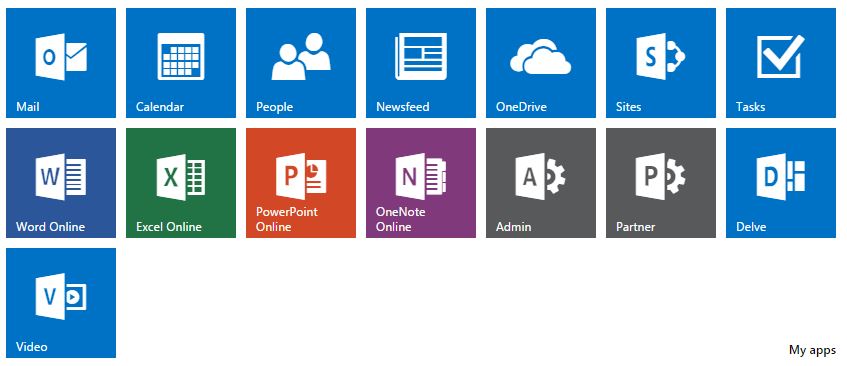 The most commonly used applications are Mail, Calendar, People, Tasks as well as the on-line editions of Office 2013 Web Apps; Word, Excel, PowerPoint and OneNote. OneDrive and Sites offer the ability to save and share documents to the cloud and Newsfeed provides a running feed of file creations, updates, edits etc.
Some of the newest applications are Delve and Video:
Office 365 Delve helps you discover information that's relevant to you from your organisations Office 365. You can view what people are working on with any changes to documents they've made, recent emails you've received with attachments and pin all this information to your own personal website board.
Office 365 Video is an intranet website portal where people in your organisation can post and view videos.
The most recent feature to be made available is Office for Android, Microsoft now supports the use of mobile editions of Office on Windows, Apple and Android devices.
Microsoft Clutter arrived in June 2015, this is a popular feature that allows the automatic de-cluttering of an email inbox that apparently saves users an average 82 minutes a day.
Microsoft's cloud services success is due to its constant evolution of products as well as its unparalleled flexibility, it's the perfect solution for start-up businesses with 1-2 members of staff as well as mid-size (300+) and enterprise (1000+) organisations.
If your organisation is interested in the latest offerings or have any questions please contact our team of Microsoft certified engineers for more information.